Rokit Pods
Turmeric Blend
Sale price Price £4.99 Regular price
SIMPLE, CONVENIENT SINGLE SERVE - Enjoy the benefits of an amazing turmeric latte whenever you want, simply pop one of these into your nespresso machine, turn on, and its done. No more dust going everywhere, complicated mixing, or whisks to clean.
ORGANIC & SUGAR FREE - Each pod contains quality totally organic blend of Turmeric, Lucuma, Maca, infused with warming Ginger and Black Pepper.
MAKES A GREAT LATTE - To make a delicious latte, Simply add your favourite milk of choice to the drink. This can be either steamed, hot or just simple cold milk, and it can be any type of milk.
THE SUPER SPICE - Turmeric is packed with polyphenols and has excellent anti-inflammatory properties, and can help ailing, stiff joints and soothe the digestive system.
GOLDEN GODDESS - Turmeric, Curcuma longa, also known as the 'Golden Goddess' in India, has been used for thousands of years in Ayurvedic traditions as a medicinal herb.
Customer Reviews
17/09/2020
Amanda B.
United Kingdom
I recommend this product
Bitter and un drinkable
Ordered these as thought it would be quick to make in the neapresso maker. Didn't mix with milk as I do my powder as it says can be ***** as served from machine. It was bitter and couldn't drink it. Infact I have two boxes if anyone wants them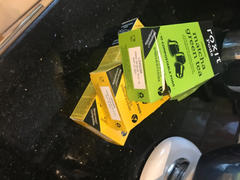 Thanks for your feedback, sorry to hear they were not to your personal liking. Turmeric does naturally have a slightly bitter taste, therefore it works well as a latte using either normal milk or non-dairy milk, plus a drop of honey to sweeten further if required. Regards the remaining boxes and your disappointment, please send an email to contact@rokithealth.life about this with your order number to enable us to assist you further.
13/08/2020
Mary K.
United Kingdom
Brilliant
I love these. Great taste and added bonus of recyclable pods.